Here it is! The Inspector Roadshow  March, 2020! This is a huge event held at the fabulous Hotel Henry in Buffalo, NY
Bill Kibbel starts the 24 hours of continuing education off with 8 hours on historic homes. Bill is nationally recognized and probably knows more about, and has seen more old houses and buildings than anyone else. His portion of this conference will give you the ability to better inspect and understand historic buildings and their components.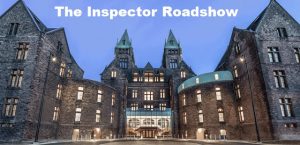 Jim Katen follows Bill, (he may be the only person able to do so with confidence) for the second day of the conference. Jim is likely the best rounded inspector in the country, but his grasp of a home's electrical system is truly exceptional. Jim will provide you with a theory-rich education. Having an understanding of how it works, why it works and what can go wrong will give you a leg up on your competition.
Chad Fabry will finish the three-day, 24 hour conference with 8 hours on construction essentials everyone should know. The curriculum is based on the 2015 International Residential Code and will include discussion on many topics.
Click the link at the top of the page and we'll take you to the Inspector Roadshow™ website.